Like Miley Cyrus, Blanca Blanco isn't stressing over risking a wardrobe malfunction.
The 38-year-old actress attended the 61st annual Grammy Awards at Staples Center in Los Angeles Sunday wearing a sheer watercolor hue curve-hugging beaded gown held by a single strap. Blanco paired the look with strappy nude heels, a matching clutch and jewels.
MILEY CYRUS RISKS ANOTHER WARDROBE MALFUNCTION
The dangerously low-cut ensemble, which Blanco described to Fox News as "edgy," was created by Vietnam designer Quynh Nhu Nguyen. Blanco posed alongside supermodel Heidi Klum who wore a similar winged long for the televised ceremony.
After being photographed on the red carpet, Blanco told Fox News on how she and other stars like Miley Cyrus attempt to avoid the dreaded wardrobe malfunction all while showing off their personal style.
"To prevent a wardrobe malfunction make sure to get professionally fitted," she warned. "Have the most comfortable high heels because it will be a long evening. But a big no-no? No underwear lines. Be yourself regardless and be confident."
Blanco previously attended the 2019 Golden Globes in January of this year after sparking backlash last year for her infamous red dress.
BLANCA BLANCO: I RECEIVED DEATH THREATS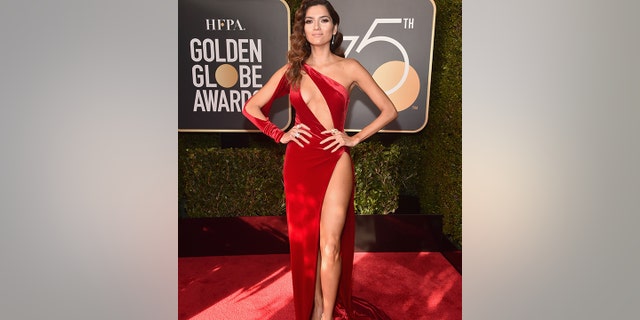 "I did feel anxiety about showing up at the Golden Globes but at the same time, I attended because making a positive outcome in a stressful situation is stronger than the alternative," the actress told Fox News exclusively. "I will not allow fear to interfere with my decision-making as I don't want to develop unhealthy habits — instead I faced and accepted the fear and will continue to grow."
"I am a strong believer that when life throws you lemons that you make lemonade," added Blanco. "Life is so fragile one needs to keep focus and move forward. I felt honored to be part of the Golden Globes again this year and happy to support the outstanding and talented women and the many actresses that I admire in this great business."
KATY PERRY CRITICIZED FOR APPEARING TO TRY AND UPSTAGE DOLLY PARTON DURING GRAMMYS TRIBUTE
Blanco told The Hollywood Reporter she received death threats and "tons of hate mail" after wearing a bright red gown with a thigh-high slit and a plunging neckline during the 2018 ceremony while Hollywood's biggest stars chose to step out in black outfits to keep the spotlight on the sexual harassment and assault scandals plaguing the film industry.
"I've always done my own thing, but I didn't think it would be a big deal for me to wear a red dress to the Golden Globes last year," she admitted to the publication. "From what I had heard, only the nominees were going to wear black, and I thought it would be silly for me to show up in black."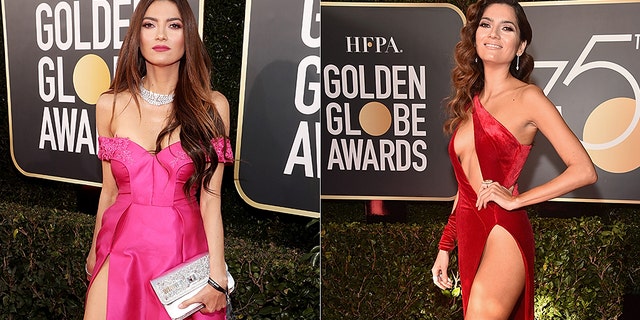 "Atria Couture made my dress," she added. "I wanted to stand strong and I felt so honored to be there, but what happened after I walked the red carpet was crazy. Photos of me went viral, I became a trending topic on Twitter and I got death threats and tons of hate mail."
CLICK HERE TO GET THE FOX NEWS APP
Blanco said she had no idea she would get slammed for wearing red instead of black.
"I support [Time's Up] — it had nothing to do with not supporting the cause," she explained. "It was incredible to see all the courageous women come forward over the past year. I take responsibility for wearing color while everyone else wore black."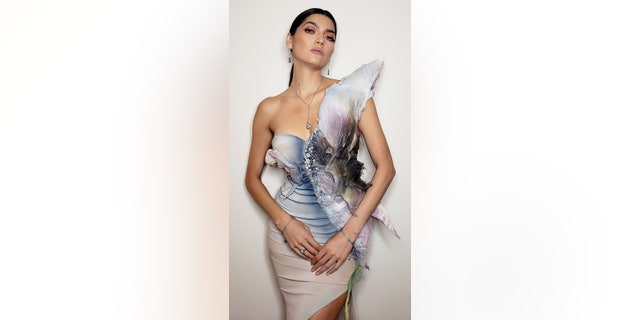 Still, Blanco said the bold fashion move only boosted her career. In fact, she still owns the infamous dress.
"Some good things happened," she said. "My social media following tripled, and my IMDb profile was ranked in the top 30 for several weeks. I was able to stay busy all year, and I did some films and magazine photo shoots."
ARIANA GRANDE A NO-SHOW DESPITE WINNING FIRST GRAMMY AWARD AMID DRAMA WITH SHOW PRODUCER
Cyrus apparently got the memo for this year's Grammys.
For the awards, the 26-year-old opted for multiple shirtless looks just months after she risked a wardrobe malfunction in a similar outfit on "Saturday Night Live."
While the star's Grammys look was definitely a lot more covered up than her risqué silver suit from December, she later flaunted loads of flesh for her performance with Shawn Mendes. For that performance, she opted for a vest with nothing underneath being held together by a chain.
JENNIFER LOPEZ TURNS HEADS WITH MOTOWN TRIBUTE AT 2019 GRAMMYS FOLLOWING BACKLASH
Cyrus also left out a shirt yet again when she performed with her godmother Dolly Parton in a yellow suit.