Ensconced in the Trump International Hotel in Washington, D.C., BLT Prime by David Burke maintains its culinary reputation with its latest offerings to celebrate summer.
Chef Bill Williamson has strived with the staff for 18 months to create a consistent level of service and variety of tastes while establishing a familiar friendliness with his cuisine.
Fun food greets hungry visitors to BLT Prime, as Chef Williamson embraces owner David Burke's playfulness with tasty surprises.
Take the case of cuisine prepared for a Red King Crab Bake, which quickly becomes a hands-on event.
Diners can begin with the Clothesline Candied Bacon. Four triple-thick (¼-inch), butcher-cut applewood bacon slices from Nueske's of Wisconsin are sweet and salty. Clothespins suspend the cooked bacon from a line over a crisp dill pickle and a lemon wedge, and the waiter gives the bacon a final crisping with a mini blowtorch. The diner then uses white scissors to cut the bacon down from the line.
---
---
The Nueske's entrée-quality bacon features rich, thick proportions of fat to meat. The bacon is candied in maple syrup and lightly dusted with black pepper. When eaten with the pickle and lemon, it reminds one of a deconstructed Cuban sandwich, sans the bread.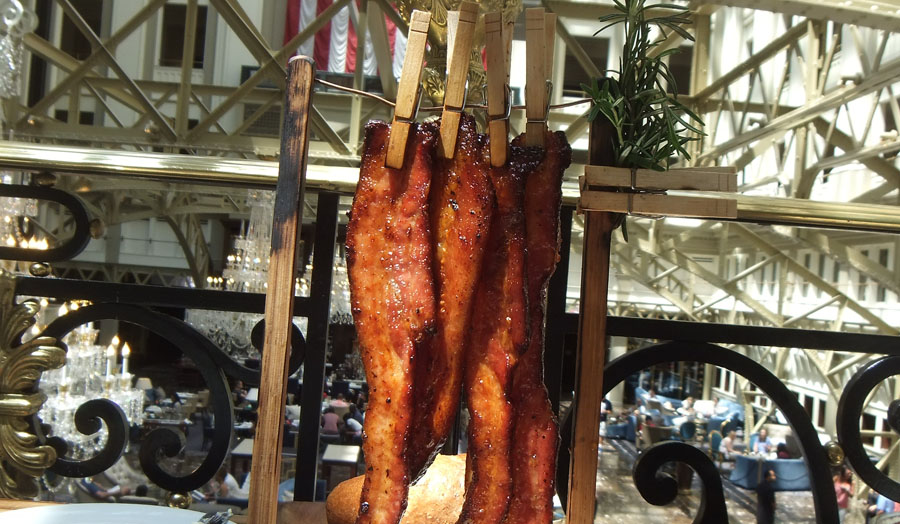 A second course brings a Chilled Corn Soup, created not with heavy cream but coconut milk. The dish has a creamy consistency while being quite light.
Presentation requires the waiter to pour the soup tableside onto a shallow dish filled with charred corn, avocado, king crab (chunk and shredded) and a pinch of pickled chilies to bring the heat. Diners mix the ingredients to their satisfaction before diving in.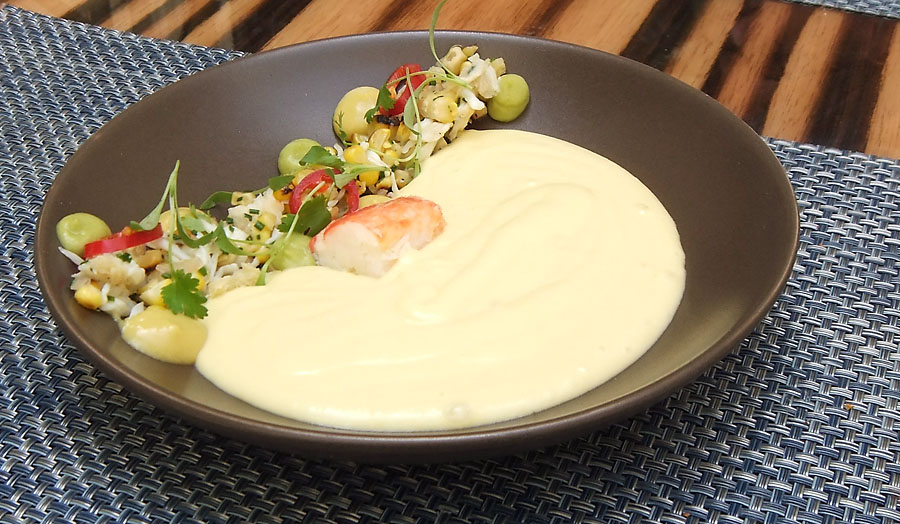 Balancing the sweet of the corn with the umami of the crab is the unmistakable taste of tart rice vinegar, giving the dish an unexpected but delicious Asian flair.
The main course — Red King Crab Bake — is the culinary experience. Each bake features 2½ pounds of red king crab harvested from the Bering Sea — the crème de la crème of king crab.
The colder the waters, the denser the salinity — and the better the crab. Frigid waters provide more nutrition to crabs, creating a sweet, delicious taste.
What's more, the red king crab is larger than its Alaskan cousins. The claws are as big as a woman's hand, and the meat inside easily matches the size of as a gourmet hamburger.
Each crab bake includes one large and one small claw (still good-sized) and two legs, from which the diner can extract a ¼-inch to ½-inch wide cylinder of meat easily 4 inches long.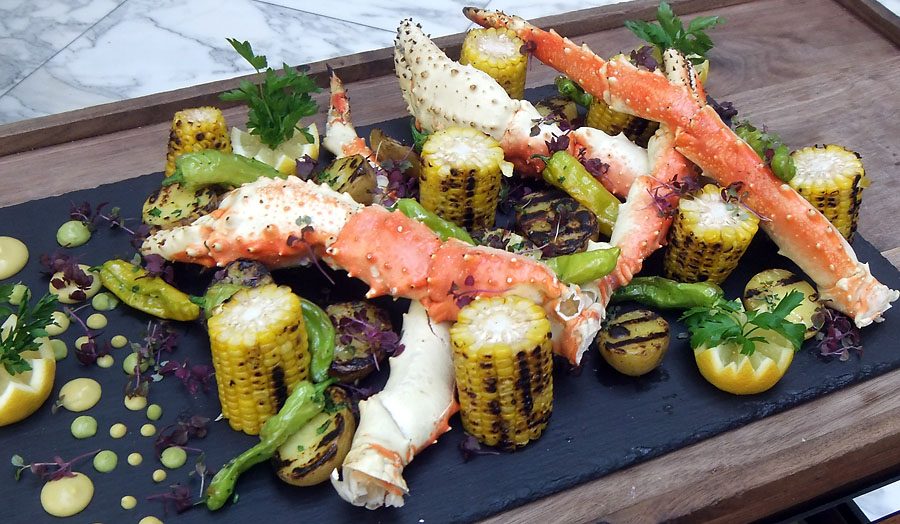 Commercially, red king crab sells for $45 to $50 per pound, making this feast truly special.
The bake comes with chunks of charred corn, roasted potatoes, blistered shishito pepper and three sauces — traditional drawn butter, citrus aioli and yuzu pickled ramp remoulade, a mayonnaise-based sauce, similar to tartar. Ramps are a wild onion that grows in the northern U.S. and eastern Canada and deliver a crisp taste between that of a spring onion and a wild garlic.
A dining tip: The cold water red king crab has a hard shell and cracking it is work. Ask your dining professional to have the kitchen pre-crack the shells to make the digging easier.
Before leaving, diners with a sweet tooth should ask for a David Burke Cheesecake Lollipop Tree. Mr. Burke is the first to put a bit of sweet cake on the end of a paper stick. BLT Prime serves this delicacy of eight different bites of cheesecake with its signature bubble gum whipped cream.
It's worth nothing that President Trump promises a remarkable Fourth of July celebration, starting with a parade and ending in a fireworks display. This year, while heading to the National Mall for the Fourth, one might consider in the plans a lunch at BTL Prime.
In addition to the Red King Crab Bake and other items described above, Chef Williamson will offer a BBQ feast featuring St. Louis-style barbecue beef ribs with homemade black peppercorn molasses sauce, Napa cabbage slaw and white bread.
• Jacquie Kubin is an award-winning travel and food writer and travel editor at Communities Digital News.
The Washington Times Comment Policy
The Washington Times welcomes your comments on Spot.im, our third-party provider. Please read our Comment Policy before commenting.