Ariana Grande had a strong reaction to her late ex-boyfriend and rapper Mac Miller losing the Grammy award for best rap album on Sunday.
The singer took to Twitter to voice her frustration after Cardi B took home the best rap album award for "Invasion of Privacy." Miller's fifth and final studio album, "Swimming," was nominated in the category and the Recording Academy invited the rapper's parents to attend the awards show."
"F—," she tweeted, followed by other posts that read "trash" and "literal bulls—."
ARIANA GRANDE A NO-SHOW DESPITE WINNING FIRST GRAMMY AWARD AMID DRAMA WITH SHOW PRODUCER
The "thank u, next" singer then clarified she was not calling Cardi B "trash" after several users criticized her for the tweets.
"Nothing to do w her. good for her. i promise. i'm sorry," Grande wrote, referring to Cardi B. She wrote in another tweet, "[Cardi B is] not at all [trash] and that's not what i meant and u know that."
Grande said she was upset that the Recording Academy invited Miller's parents to the awards show to watch their son lose.
"this. this is what i meant. karen was gonna have a green suit made," Grande tweeted in response to a fan asking why the Grammys invited Miller's parents when the rapper wasn't going to win an award.
"THEY INVITED HIS PARENTS OUT. NO," she said in another tweet. Grande added that Miller "slept in the studio for two months" while recording "Swimming."
XXXTENTACION LEFT OUT OF GRAMMYS 'IN MEMORIAM' SEGMENT, LEAVES FANS UPSET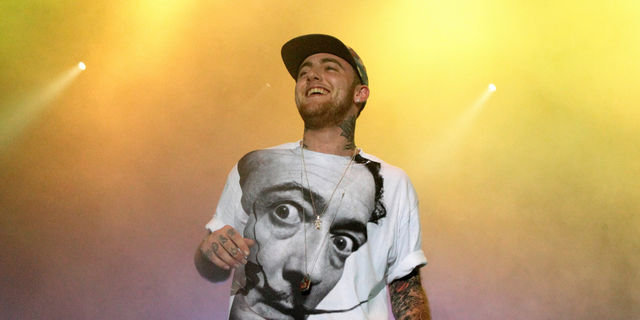 The 25-year-old singer, who didn't attend the Grammys due to a dispute with show producers, has since deleted all the tweets.
Despite the loss, the Grammys honored Miller, who died in September at age 26, in its "In Memoriam" tribute Sunday night.
CLICK HERE TO GET THE FOX NEWS APP
Cardi B also honored Miller in a video, saying she was "sharing the Grammy" with the late rapper after reading an article that said his family was "rooting" for her to win.
"WE WON A F—IN GRAMMY," she posted on Instagram with a screenshot of the article.